Posts for tag: dental implant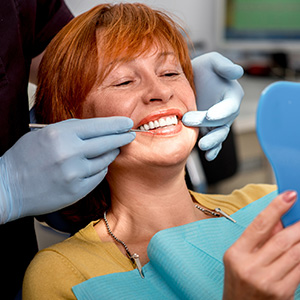 Dental implants aren't simply prosthetic teeth, but rather an innovative system that restores both smile appearance and dental function. And while an implant can indeed replace a single tooth, they can do so much more. Integrated with removable dentures or a fixed bridge, they provide a secure solution to multiple missing teeth.
Implants essentially replace a missing tooth's root, the basis for their lifelikeness and functionality. As such, they're also the most sophisticated restoration used today, requiring a high degree of technical and aesthetic skill to place them properly. In reality, implantation is more a process than a procedure.
If you're considering implants, that process begins with a comprehensive dental exam. During the exam, we'll assess the exact condition of your oral and facial structures like the length of remaining teeth, your bite and jaw dimensions. We'll use this information to plan the type and placement of your implants. The exam may also reveal problems like bone loss that might postpone your implants or suggest another form of restoration.
Using digital technology, we then locate the exact positions for your implants on the jaw to ensure the best outcome. This often results in the creation of a surgical guide, a plastic template placed over the jaw that accurately pinpoints the locations for the drilling sequence during implant surgery.
In most cases once the implants are surgically installed, gum tissue may be sutured over the implant to protect it while it integrates with the bone. In some cases, though, a visible crown may be placed immediately, so the patient can enjoy a tooth-filled smile the same day. This immediate crown, though, is temporary and will be replaced with a more durable, permanent one in a few months.
During this interim, the titanium in the implant post will attract bone cell growth, which will build up on the implant surface. This increased bone contact will help secure the implant fully in the jaw, giving the implant its signature durability.
Once the integration is complete, the permanent crown is affixed to the implant (or implants in the case of a fixed or removable dental appliance). It may have been a long road, but you'll have the closest thing to real teeth.
If you would like more information on implant restorations, please contact us or schedule an appointment for a consultation. You can also learn more about this topic by reading the Dear Doctor magazine article "New Teeth in One Day."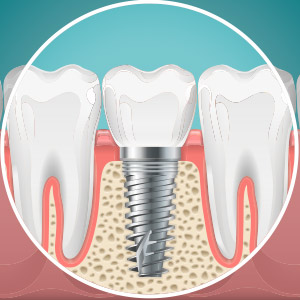 Besides their life-likeness, implants are also prized for their high success rate. More than ninety-five percent of implants continue to function effectively after ten years.
Implants' advanced technology explains some of their reliability and longevity—they're as close to natural teeth as we're now able to achieve. But their impressive success rate also owes to the detailed protocols that dentists follow to install them. One critical part of these protocols is ensuring a patient has enough bone in their jaw to support and precisely situate the implant for the best functional and aesthetic outcome.
Unfortunately, there are situations where a patient doesn't have enough bone to achieve a satisfactory result. This often happens if there's been months or years between losing the tooth and considering an implant. The reason why relates to the nature of bone as living tissue.
Like other cellular tissues in the body, bone has a life cycle: Older, worn-out cells die and are absorbed by the body, and new cells form to replace them. The growth cycle in the jaw receives stimulation from the forces generated when we chew, which travel up through the teeth to the bone.
However, this stimulation stops after tooth loss for the related area of bone, which can slow new bone growth. Over time, the volume and density of the bone around a missing tooth gradually decreases, enough eventually to make an implant impractical.
Insufficient bone volume, though, doesn't necessarily mean an implant is out of the question. We may be able to address the problem by attempting to regenerate the bone through grafting. This is a procedure in which we insert graft material into the affected area of the jawbone. The graft then becomes a scaffold upon which bone cells can grow.  After several months, we may have enough regenerated bone to support an implant.
If there's been too much bone loss, we may still need to consider another form of restoration. But if we can successfully build up the bone around your missing tooth, this premier restoration for replacing lost teeth could become a reality for you.
If you would like more information on dental implants, please contact us or schedule an appointment for a consultation.